Oils can do wonders for your skin health, but there are big differences among them depending on their properties. The most important property that separates ordinary oils from dry oils is their absorption speed.
Typical oils are "heavy" and leave a greasy residue on your skin, while dry oils absorb quickly and immediately provide a sense of care. Ordinary oils will absorb deeper into the skin, but they take more time and several applications for results to be seen. Dry oils work at skin surface, so the skin becomes silky right away.
Instead of classic oils and body milks, women are increasingly choosing dry oils due to their efficiency, fast action and wealth of vitamins and antioxidants. Dry oil is suitable for dry, greasy and sensitive skin, and since it does not leave a greasy residue, it can be used for makeup foundation. One of its best effects on skin is the increased elasticity leading to slower aging.
Because of their fast absorption effect, dry oils can be used for hair care because, unlike ordinary oils, they will not leave the hair greasy and sticky.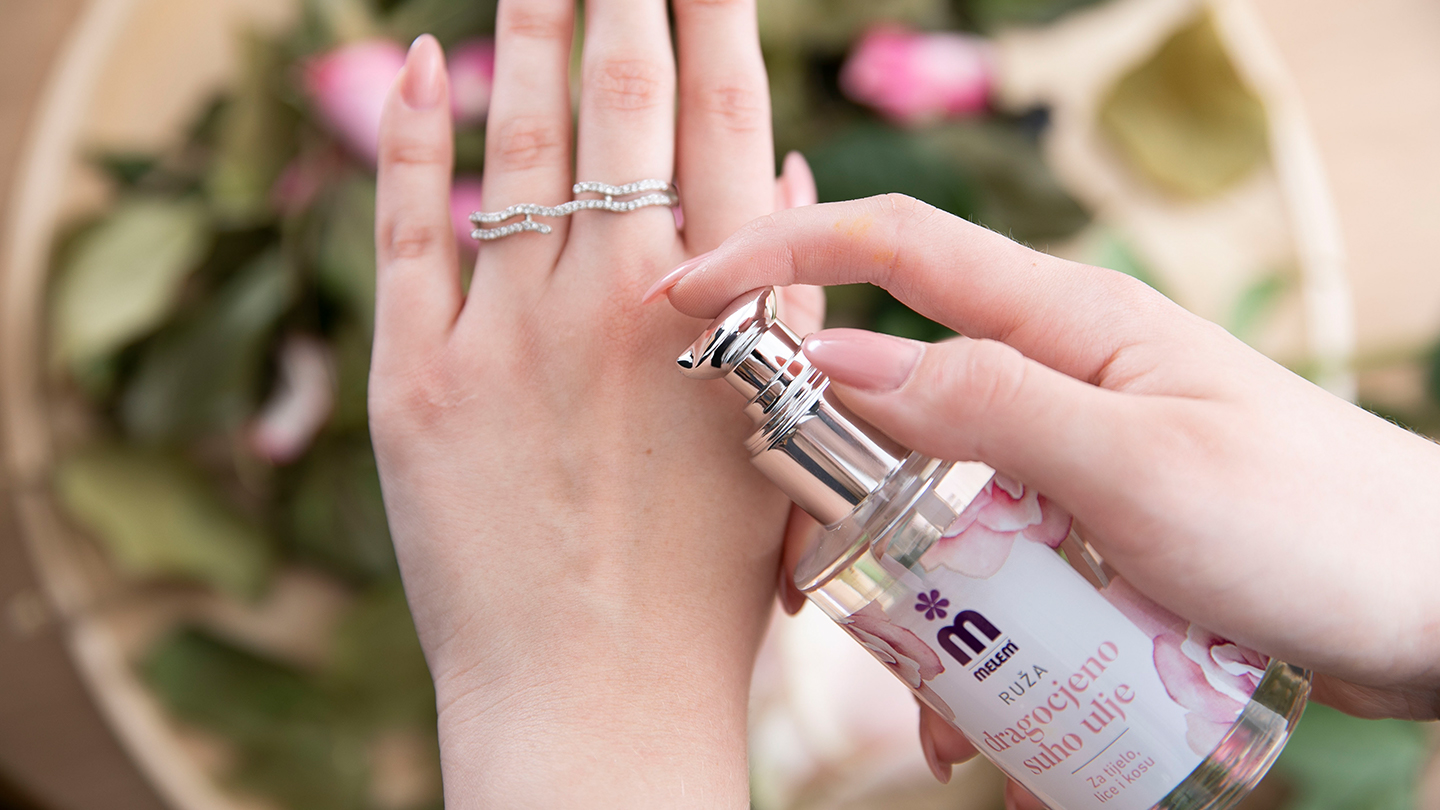 Melem precious dry oils are a carefully selected combination of apricot kernel, almond, and olive oils and the essential rose oil, which nurture the skin and make it elastic and velvety.
Besides giving the skin a feeling of nourishment, beauty and softness after every use, Melem precious dry oil with essential rose oil and diamond glow dry oil boast luxurious scents and aromatherapy effects.
"I love the fact it absorbs quickly and nourishes the skin, and at the same time I smell wonderful even though I have not put on my perfume."

- Ljupka Gojić Mikić
You can combine them with other cosmetic products such as liquid powder, for facial hydration. Rose has been an ally to women for centuries when it comes to preserving beauty, and its oil helps the skin muscle tone and has anti-inflammatory qualities. Melem dry oil has a light texture, absorbs fast and does not clog the pores.
Besides hydrating, Melem diamond glow precious dry oil gives the skin an elegant diamond shine, making the skin appear nurtured and attractive. For a dash of glamour, apply some dry oil on your shoulders, neck and neckline, or use it in place of highlighter to give your face a glowing, healthy look and accentuate parts of your face.
"To accentuate my cheeks, I like to put some dry oil on my cheekbones, instead of highlighter."

- Ljupka Gojić Mikić
Applying oil is one of women's favorite beauty rituals. With the new Melem precious dry oils, you can have your exquisite moment of relaxation whenever you wish.
Take a look at how Ljupka uses Melem dry oils in her beauty rituals!